As almost everyone in the college football world settles in to hibernate for 7 months, those happy few who remain desperately interested in the sport must find more obscure sources of entertainment. (see: ode to the BCS) For many of us, this means turning our attention to the at times murky world of college football recruitment. These young men, after all, are the future. They are what we will be watching next year, the auspicious or even those freshmen who will immediately make an impact. Here are some of the latter crowd, in fact a brief look at the 5 best recruits in this year's class.
Leonard Fournette: RB, 95 (ESPN grade), bound for LSU. This guy will make a difference, obviously. It's exciting to think of a running back as the best player in the country, and most people think he will live up to the hype, even against SEC defenses. The extent of his impact as a freshman remains to be seen, but LSU sure thinks he'll play, and play well. Ok so that's a man, not a high schooler, and he looks
ready to help LSU win.
Jabrill Peppers: CB, 95, Michigan. I've heard many a great name, both in the professional and collegiate game. This is up there, I have to say. Michigan is happy to have this guy in their secondary, obviously, but more importantly, what a name. "Hi, I'm Jabrill. Jabrill Peppers." I can't crown it the best, but this is one of the top names I've heard in a while.
Michigan has "signed its big fish" in Peppers,
the second best player in the country
Cameron Robinson: OT, 95, Alabama. As if the Crimson Tide needed help in their running game… (They don't, they really don't.) But they are definitely getting it in the 330 lb. Robinson. SEC football just got a little bit bigger.
Myles Garret: DE, 95, headed for Texas A&M. We always hear about how a great defensive end is worth almost anything, and can completely change a team. Well we know the defense down in college station needs help, as last year Manziel would do things like drop 42 on Alabama's defense and they would still lose. By the end of the season, the entire defensive unit was, as one analyst put it so poignantly, "floating belly up. Completely." So they need help, and they are getting it in Garret.
Garret will be a big improvement on a defense that bad.
Also, he's worth a google. They all are, but he's jacked
like a Greek god.
Andrew Brown: DT, 94, Virginia. Virginia is the latest school in the ACC to, out of nowhere it seems, suddenly field a more than respectable football team. They have one of the best recruiting classes in the country this year, and a large part of that is the 300 lb. Brown. Between him and the tenth ranked Quin Blanding, (S), they head up definitely one of the most promising classes in recent memory for the Cavaliers. This means the ACC is improving, if we didn't know that already. (FSU of course, Miami, Clemson, Duke, BC even…) A stronger conference will be great for college football.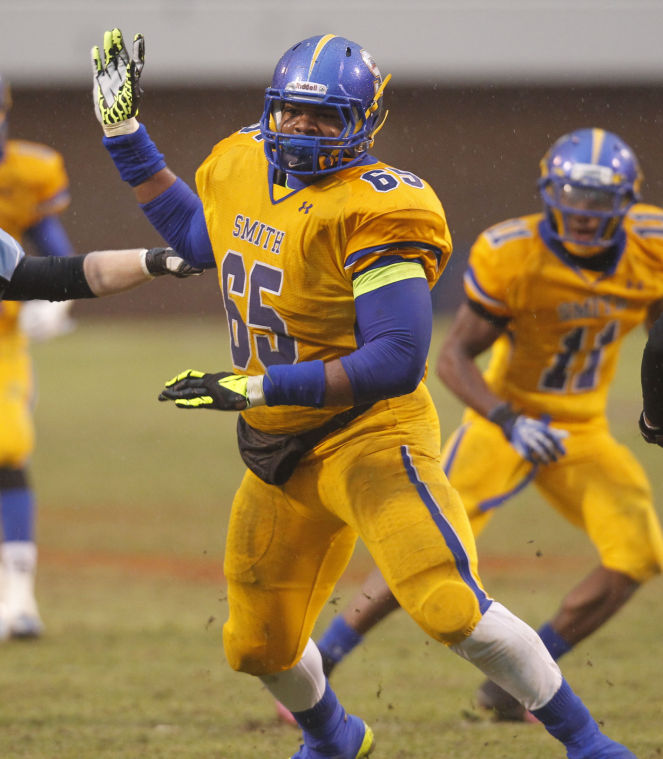 300 lbs. of five star commit, headed to,
incredibly, an ACC school