The witching hour approaches. No amount of dramatic ESPN commercials, (you know the type) blindingly complex photo collages, or sports center hype can quite prepare me for this one, this pinnacle of collegiate competition, this sacred night. As some networks would have it, life will pause for four hours on Monday night, and it may not resume after that. My apologies, but I felt it was better to clear out the poetry before we go any further. One fell swoop, that type of thing.
So this will be a good game of course, a matchup we all want to watch. Florida State was flirting with a ticket here all season long, while Auburn on the other hand was certainly a late comer to the party. But both teams deserve to be here, Auburn with a timeless late victory over the best team in the country (and a huge title game loss from the Buckeyes) and the Seminoles after having played stellar football for four months. Although this is not the end of the championship game as we know it, it is true that we will never again see a game like this, where both teams are elected in and have not won playoff games to get here. That's a good thing, I think most everyone is happy to wave goodbye to a flawed BCS system, but still, the nostalgia deserves mention I should think. The spread here is (as of Sunday afternoon) 8.5 points against Auburn, fairly reasonable I find.
A lot of pride on display
Not quite as cool, and War Eagle is vastly preferable.
All this rolls into what should be a great game. The Seminoles think, perhaps, that they should win. The Tigers know, perhaps, that they are outmatched, but after beating the Tide, also know that they can beat the best team in the country. Undoubtedly, Alabama was a better team than the Tigers (let's shelve, for the moment, their recent upsetting loss to Oklahoma, though props to the Sooners) but Auburn won. It is that simple, and I can't help thinking, can they do that again?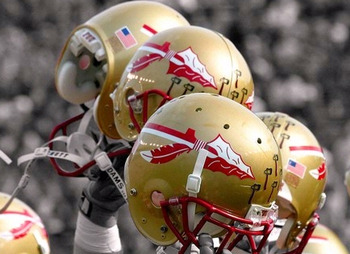 A formidable unit
So, to business. (I write that briskly, rolling up the sleeves). Some interesting pro-Florida numbers and tidbits. Heisman winners usually win on this stage. The last two have, (Mark Ingram for Alabama and Cam Newton for, all together now, the Tigers in 2010) so Famous Jameis is looking to go three for three. Some question Auburn's defense, particularly against the pass, and so it begs the question. Will they hold up if Winston brings his best passing game? That passing game, the likes of which we all saw on display against Clemson or Miami, two humongous statement wins this year for the freshman and his team, is tough to beat. The Seminoles can also boast the best scoring defense in the country this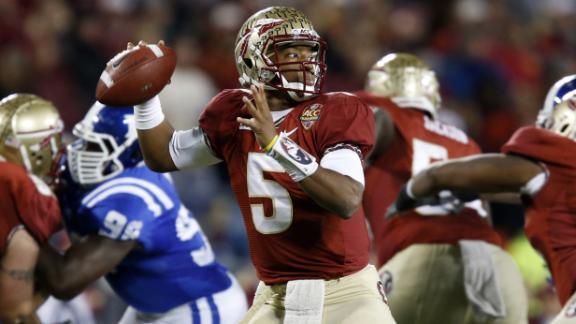 He shows up when it counts, every time.
year, allowing a paltry 10.7 points per game all season. That's an important stat, maybe one of the most important ones. Auburn's passing game lacks magic, so without really having to respect him through the air, the Seminole defense is probably pretty excited to get to work on Nick Marshall and his triple option. Remember, such Seminole stats have come against a decent schedule all year long. Of course, most opponents are cupcakes, but the same can be said for any powerhouse in the country. This season, this defense allowed 14 points against a then 7 Miami and before that, 14 against a then third ranked offensive power Clemson. Those are big games and big showings from the defensive unit of Florida State. Finally, Florida State's weakest moment this season has been a 48-34 victory over Boston College. That's the closest margin of victory by far this year for this team. The better the team, the better the Seminoles have looked.
Auburn, I regret to say, wilts a little when held up to the same scrutiny. Their defense by conventional standards has been mediocre. Though they have found the big stops all year long, they rank 95th nationally in yards per play allowed (5.96), by far the worst of any team ever to reach the BCS National Championship Game. They also rank last in passing defense in the SEC. Of course, one look at the quarterbacks they have faced this year might offer some solace to Auburn fans, as this year has seen Johnny Manziel, Zach Mettenberger, AJ McCarron, and Aaron Murray, 4 SEC studs who make most defenses look terrible. Additionally Auburn has allowed a much more comforting, respectable 24 points per game this season, so perhaps all the big plays they let up don't always translate into big points. Regardless, this is at best a solid defense, good in the red zone and bad out of it. Realistically, that won't be enough to stop Jameis Winston and his offensive powerhouse. So if Auburn is to win, then, it will be on the backs of two young men, Nick Marshall and Tre Mason.
He'll have to do that a lot on Monday night.
Mason was a dark horse for the Heisman this year, after several huge games including a SEC title game performance we will probably never see again. If you missed it, he ran for over 300 yards on 46 carries and four touchdowns en route to a 59-42 pounding over Missouri. It is entirely possible that that performance (the best ever for a running back by far in the SEC title game) holds the top spot in the record books for a very long time. He bested the old mark for yards on the ground in this game by over 100 yards. Meanwhile Nick Marshall has had a long road to this game, including some switching of schools and a junior college stint, even, after leaving Georgia. Everyone may love the guy, as well they should (I've heard much about his soft spoken Southern accent, his humble demeanor, etc etc) but I don't see him scoring 40, and that may be what it takes.
This should be fun to watch, even if a little lopsided. Alabama is, of course, disgruntled to play in this one, but that doesn't mean they won't put on a show. Remember, they were one made field goal away from playing in (and probably winning) a third national championship. So really we can't expect anything but a thorough whupping from the Tide. Very few folks think otherwise.
Ah for the days of Landry Jones, huh Sooners fans?
As it is, we have no clue who this guy is.
AJ McCarron almost did it. He almost won 3 national titles, and perhaps even a Heisman. Hopefully, with the help of an upcoming 8 digit NFL contract, a super model girlfriend, and national prominence, he can cope with this crushing despair. We're all pulling for the guy, in these tough times. Anyways, ideally he will end his career leaving no doubt that he is a dominant college football force, thereby allowing the zealous Tide fan base to probably forgive him, despite one of the biggest losses in school history. I'd say if he drops a 40 spot on January 2, they bury the hatchet and call it even. Helping him do that will be an explosive receiving core, led by sophomore Amari Cooper. This group did not graduate a single senior last year, and this game should be the culmination of a season's worth of improvement.
Youth aside, people are hailing this squad to have "one of the most distinguished senior classes in college football history." Among those playing their final college football games in New Orleans on Thursday are McCarron, C.J. Mosely, wide receivers Kenny Bell and Kevin Norwood, guard Anthony Steen and even punter Cody Mandell. That's a lot of talent, all determined to leave on a good note. Of course, just because T.J. Yeldon isn't in that group doesn't mean he won't feature prominently here. Here's hoping to another money sign double throat slash…
And the Sooners. I wince, as I write this, but they have scrabbled together their requisite 10 wins this season by rotating 3 starting quarterbacks. 3! In fact, as of this writing (48 hours before game time, about) they have yet to announce their starting quarterback for Thursday. Regardless of whether we see Trevor Knight or Blake Bell however (a duo somewhat optimistically deemed "the two headed monster") I don't see Alabama quaking in their boots. Meanwhile the Sooner defense has yet to really prove themselves against quality opponents. A casual glance at the numbers would suggest a formidable unit, but in two games this season (Baylor and Texas, the two toughest match ups) the Sooner defense have let up over 900 yards. This doesn't bode well.
Hang in there, big guy. Also, you have weird tattoos.
Quixotically, some are predicting the best performance we have ever seen from the Sooners, that they might rise to the occasion magnificently, on the coat tails of a bizarre berth-securing win in Bedlam over OSU that included an earthquake. Yet however fated they might think this win is, I can't agree. I have to go Tide, and not in a close one.
Alabama 35-Oklahoma 17
.
Orange Bowl Preview: Ohio St (12-1) vs Clemson (10-2)
The last time these two met, it was in the Gator Bowl some years ago. Woody Hayes ended an illustrious coaching career with a phenomenally stupid moment, punching a Clemson linebacker after an interception. Will something of that nature occur here? No, absolutely not. But in this one offensive gymnastics will be in no short supply, so it may be almost as fun to watch as that must have been. Some important spreads, I have gathered, have Buckeyes by 3 here, so let's say anything might happen. The Tigers, for their part, haven't lost to any bad teams this year, but are coming off a bitter loss to in state rival South Carolina. That is some sort of nasty, in state rivalry down there, so I imagine Clemson desperately wants to go out on a good note. Of course, Ohio State would, if they had their way, not be playing in this one, but Urban Meyer will hopefully muster the troops for a good effort against a good team in what is still a big bowl game.
The Tigers, as stated, have two losses this year. We all remember, so long ago, a much publicized matchup against Florida St. Then 3 Clemson was slightly favored, in a game at home which would, some said, prove whether Jameis Winston was the real deal. He handed the Tigers their worst loss at home, ever. A nice, 51-14 thrashing, and all of a sudden Tajh Boyd was out of the Heisman
He's still a talented quarterback, looking to have a big game
conversation, and Clemson was out of the picture. They, as I have heard it so aptly said, had to eat the humble pie here, no doubt. There's just no getting around a 37 point loss at home, when a team is supposed to be one of the best in the nation. No explaining, no pointing to one moment or one aspect of the defeat. That's simply embarrassing. But, to the Tigers credit, they have done everything they can since then, which means they have done nothing but win for the rest of the season, until of course the ill fated matchup against the Gamecocks. So here they are, at the end of another strong season, looking for what would probably be an upset victory. Just because everyone has forgotten about senior Tajh Boyd (and his 67.7 completion %) doesn't mean he isn't talented. I predict he'll have a big game, a final statement before the draft, and the entire Clemson offense should like like a fairly stellar unit. Also listen, of course, to hear the names of WR Sammie Watkins (the best in this year's class, after A&M's Mike Evans) and the less exciting but almost as solid WR Martavis Bryant. These two should be targeted a lot, but this offense can hurt you on many levels, so a high scoring affair is in order. They will be helped by an at times questionable Ohio State defense, of course, letting up over 360 yards a game.
Two great players who play great together
Well I couldn't leave you without some mention of the two headed monster. Braxton Miller and Carlos Hyde are licking their chops, I imagine. While the mood of the team is tough to predict (so close to punching their ticket, as I have said they really would rather not be in this game) here's hoping they show up and make Clemson's life difficult. Miller in and of himself is a nightmare for defenses, elusive to the extent that you really don't know where any play is going. ("The most elusive and exciting runner in Ohio State history," according to some.) Couple that with 238 lbs of running back that moves like 200, you have quite the duo. No, more than quite the duo. If both of these guys play well, Ohio State is not going to lose. These are two of the best in college football.
So a lot of points will be scored, but that much you knew already. I will have to side with the Buckeyes here, as simply the better team perhaps? Clemson really did not look good on November 30th against the Gamecocks, and while of course Ohio State didn't come out with a win against the Spartans in the Big 10 Title game, they looked just a shade better. They still played poorly though and lost comfortably, and both teams will play better in this one. In the end, we have two great quarterbacks set for a duel for the ages, hopefully.
Ohio St 38-Clemson 31
.
Rose Bowl Preview: Stanford (11-2) vs Michigan State (12-1)
Well I have procrastinated long enough, and on this side of Christmas I suppose I have to get down to writing some BCS previews. This matchup has me intrigued and excited, so I was happy to start with it. These are two physical, defensive teams, perhaps the most worthy of that description in the country. This should be an old school football game, fun to watch and less fun for the quarterbacks on either side. If I were older and had watched an immense amount of football over the last sixty or so years, I would wax poetic here for several paragraphs, yearning for the good old days, the way the game was meant to be played, the hard hitting, hard nosed style which is less prevalent today… so on and so forth. I will, however, spare you all the spiel, because we've all heard it and no one likes listening to it. Suffice it to say that, without being nostalgic or annoyingly preferential for the days of yore, this will be a good game.
12-1 Michigan St, of course, is coming off a remarkable victory. The stakes could not have been higher for the Buckeyes in the Big 10 title game, but the simple fact of the matter was the Spartans showed up. A decisive 34-24 win over the national championship hopefuls showed everyone that this team can beat anyone, the best team in the country even. Stanford is of the same elite ilk, so another massive effort is called for on Michigan St.'s part. It is certainly nice, however, to know it's possible. This will be a defensive battle to be sure, and perhaps the Spartans get the edge on that side of the football. Some are saying this is the best defense in the country, and although I will hold off before crowning them as such, they certainly are in the conversation. Their 12.4 points allowed this season is a testament to one of the stingiest defenses, in and out of the red zone, we've seen in a long time. This is simply a good fundamentally well coached football team. Their one loss this season was a quirky 17-13 game in Southbend, and they have played their best football all season against their best opponents. For this reason, they'll play well against Stanford, for sure. It must be noted however, that
senior captain and starting inside linebacker Max Bullough is suspended for the Rose Bowl for a violation of team rules.
He is undoubtedly the most important player on the team, and although without him, the defense remains formidable, his presence will be missed of course. Not only is Bullough the single most important defensive piece for the Spartans, but he is also a vocal leader, well known and well liked. As a third generation Spartan, the program could not be more important to him. It is a crying shame that he will miss such a game, but we will have to wait and see what transgression merited such a punishment.
11-2 Stanford, meanwhile, has no such pressing issues to worry about. Yet, throughout the season, they have had more weaker moments than the Spartans, and so there must be some nagging doubts I imagine about the potential for a poorly timed choke (ahem, Utah). The Cardinal has had some remarkable games this season, in particular, a statement 38-14 win over 11 ranked Arizona St. to win the Pac 12, and of course a 26-20 win over then 2 ranked Oregon. In such games, Stanford has nearly looked unbeatable. We know, however, that they can be beat, even by a bad team. You see the dilemma. Their 18.6 points against are nothing to sneeze at, however, making this a promising, if low scoring, matchup.
In the end I can't count on the Spartan squad without their most important player. This will be a good game, fun to watch and fun to speculate on, and I see
Stanford 20-Michigan St. 12
.
Fiesta Bowl Preview: Baylor (11-1) vs UCF (11-1)
Ok, this is going to be good. Before you dismiss this as one of the more lopsided BCS bowls in recent memory, (I was tempted to, before I did a little research) consider this: The 15th ranked Knights (not bad, you must admit) have dropped just one game this year, and have a couple big wins over decent opponents such as Louisville and Rutgers, in a 41-17 upset. So this isn't as laughable a matchup as it might immediately seem, if one were to only look at the conferences from which the teams hail, or their histories. This is the biggest game in Knight history, and by virtue of that fact they probably deserve some respect for getting here. All that being said, a 17 point spread is telling, even on such a big stage as a BCS bowl. I won't let the suspense kill you, dear reader. I go Bears, in a shootout for the ages.
Petty will put on a show, make no mistake.
And I do so in large part because of one young man down in Waco. Bryce Petty did not get as much national or Heisman attention as most now feel he deserved, in retrospect. He was a great player on a great team, he had great moments, and his stats were stratospheric. But New York and the players who were there is now of no concern to the Bears, whose attention can now solely lie in Arizona. This is a high powered offense, a smooth running, well oiled, perfectly drilled machine. The Mercedes Benz of college football offenses, one might say. This isn't even an arguable point by now, as with the regular season in the books the Bears scored on average a whopping 53.3 points. Unheard of, and easily good enough for first in the nation. So while I won't declare them the best offense in college football (strength of schedule is certainly questionable) it can't be denied that they are good at scoring points. They like doing it, they do it early, often, and they do it well, even against the occasional good team. If the Bears score under 40 points in this game I will be shocked. They should be firing on all cylinders, Petty on the same page as his happy band of talented, explosive receivers, and it will make good watching. Of course that's not to mention running back Lache Seastrunk (makes the list of great running back names, one of the best I'd say) who rushed for 1,000 yards again this season and had 11 touchdowns for the Bears. He will feature prominently as well, I should imagine.
Now UCF's defense is a major cause of concern, to be sure. Little talent and almost no spine have me thinking Baylor will score when they want to, as stated above. However, this team as well can score points. They dropped 38 on the previously vaunted Louisville defense early in the season, and they scored 41 against Rutgers. Those are two good defenses there, in fact I seem to remember ESPN wanted to crown Louisville one of the best in the country. So both those wins are statement wins, testaments to this offensive power. They are led by junior Blake Bortles, a talented young lad who is actually projected to go top 10 in the 2014 NFL draft should he forgo his senior season. How's that for no name recognition, especially as a great player? So make no mistake, this is a good, well coached offense led by an excellent quarterback. They will score a lot of points as well. Let's say under 30 would have me genuinely, sincerely shocked.
Can the Knights rise to the occasion? I suspect victory is beyond their grasp.
They will score a lot, but it won't be enough. This one goes to the Bears, easily, but I will watch without a doubt, as this could easily be one of the highest scoring BCS bowl games in recent memory. Seriously, this might bring you back to
West Virginia 70 -Clemson 33
, or perhaps the less lopsided but no less exciting Boise St. 43- Oklahoma 42. It's definitely possible that this game would match, or even dare I say surpass, such ludicrous days of yore. So who doesn't want to see, as I predict,
Baylor 53 UCF 38?