Every year without fail, Notre Dame provides a veritable fount of college football controversy and excitement. They've mattered since the beginning of the game, and nowadays that gives the anti-Domers ammunition, as they use favorite terms like archaic and irrelevant. But love them or hate them, you're talking about them, so they're important. While we (you should know from the outset that I am a loyal fan of the Irish, through thick and, yes, thin) still don't mention the great debacle of January 2013, this is a team that, when one neatly glances over that briefest of hiccups on a very national stage, has looked stronger and stronger recently. Going into the 2013 season, everyone had high hopes. Everett Golson had struggled late, sure, but it was his defense who carried the team to a national championship berth anyways (a defense led by, that's right, Manti Te'o. It's almost hard to continue at this point, but I'll try). Regardless, he had matured, the defense looked strong, and everything was rosy, even after an egg laying of tremendous proportions against Alabama.
Then Golson cheated. I used to know all the details, but a mercifully selective memory has erased them from my mind. An academic infraction? Really? The enormous, money making machine that is college football is going to take a big hit because some 19 year old had someone else write his final paper on his favorite chapter of Harry Potter? But suspended he was, to be exact because of "poor academic judgement" on a test.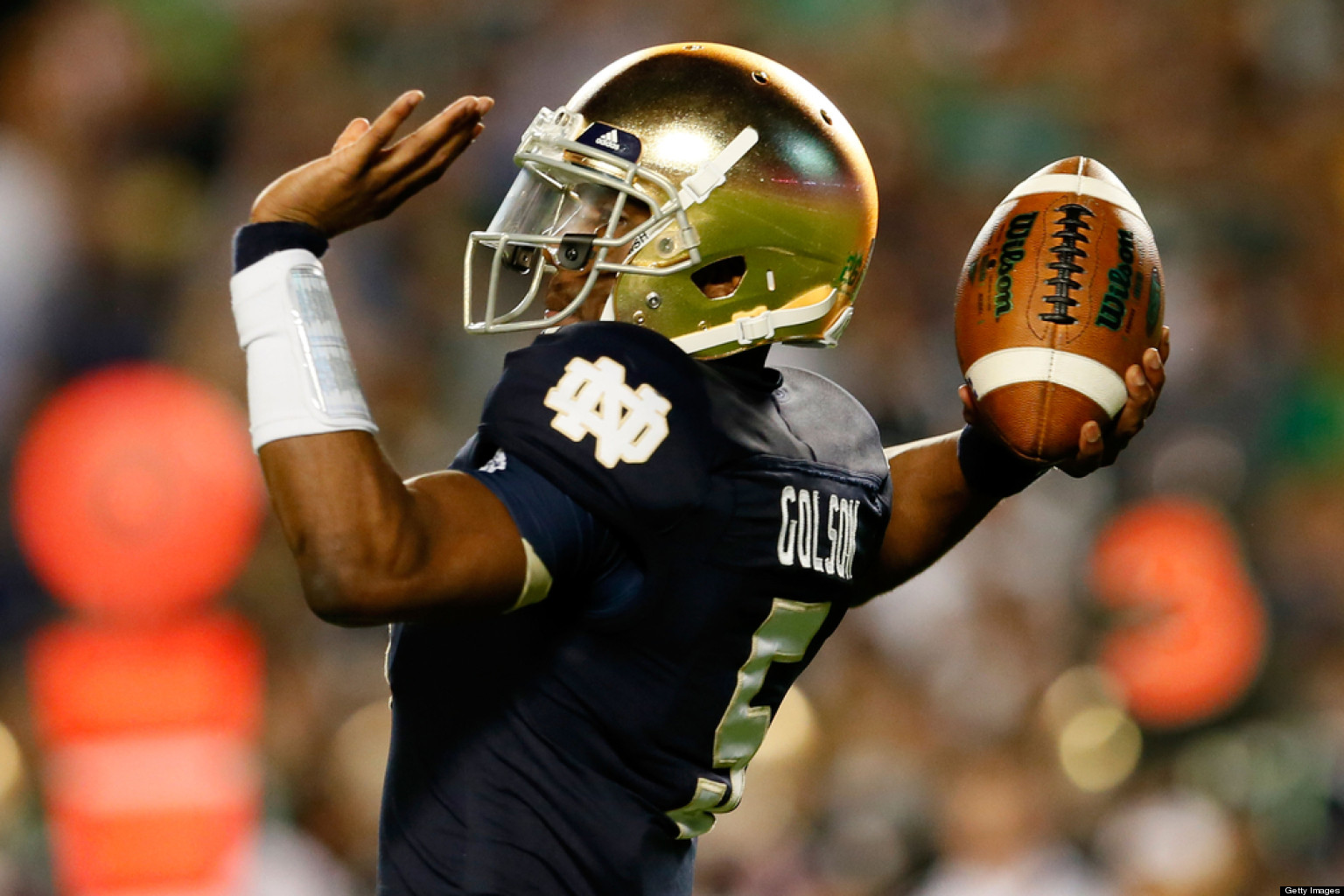 Golson was suspended for the entire 2013 season.
This is the life of a Notre Dame fan. I do in fact recall my reactions when I heard of Golson's suspension. I raised my eyes to the heavens, quietly walked out my door, screamed briefly, and went for a walk. This was the season! The trend! The quarterback! The stars had aligned, until Golson was out, and Tommy Rees (don't ask) led the team to a respectable 9-4 record, with a final AP ranking of 20th. This was not the Notre Dame season of my dreams, nor anyone's. Meanwhile a tiny voice in the back of my mind was quietly asking me if I was happy that my team applied this sort of standard for a
student
-athlete, even to its most important player. I couldn't really decide.
Already at the end of that 2013 season, I recall looking forward to this upcoming one with considerable interest, ever the optimist. The SEC had been vanquished on the national stage. The rising sophomore class was the best recruiting class in the country when they were first enrolled. These men can certainly make a difference, most notably outside linebacker Jaylon Smith, Notre Dame's best defensive player already. There was and is a lot to be excited about for the upcoming Irish season.
But of course, as soon as my hopes were raised, with equal, almost pitiful suddenness they were dashed. This came with the news that wideout DaVaris Daniels and defensive captain KeiVarae Russell were to be suspended for the season, for yet another "academic violation." Thankfully, since then it appears that the suspension is temporary and a reinstatement is likely. But for now their eligibility is in some doubt, and if ultimately these two men do not play Notre Dame will not have a legitimate chance at a playoff berth-Daniels was second on the team in receiving yards last year (behind TJ Jones, now drafted by the Lions) and Russell was one of the best cornerbacks in the country.
Some met this with glee, others dismay, and others frustration. I was inclined to a healthy mix of the last two. But more than just fans of Notre Dame should be sad to hear that their season is in peril. A good Notre Dame team is good for college football. Call me a homer, but I can hopefully provide a decent argument for this. As I have clearly shown above, Notre Dame, probably more than any other large football program in the country, values its student athletes as just that. For most top 25 programs in the country, the notion of the student athlete is a myth of laughable scale. Of course there is plenty of "academic support" for football players in Southbend, and I am not saying that every member of the team takes legitimate classes and works hard in the classroom, but I am absolutely saying that Notre Dame is very committed to academic standards. This is unequivocally proven by their commitment to the suspension of key players. Certainly I can't remember many other players at any other big football schools being suspended for cheating on tests and papers. Ask yourself honestly if an SEC school would suspend its starting quarterback (for an entire season!), top receiver, and defensive captain in the course of two years for anything other than a felony. The discrepancy is astonishing.
In comparison, a recent 146 word paper written by a UNC football player reads as follows, with no editing on my part. Note the grammatical prowess on display.
On the evening of December Rosa Parks decided that she was going to sit in the white people section on the bus in Montgomery, Alabama. During this time blacks had to give up there seats to whites when more whites got on the bus. Rosa Parks refused to give up her seat. Her and the bus driver began to talk and the conversation went like this. "Let me have those front seats" said the driver. She didn't get up and told the driver that she was tired of giving her seat to white people. "I'm going to have you arrested," said the driver. "You may do that," Rosa Parks responded. Two white policemen came in and Rosa Parks asked them "why do you all push us around?" The police officer replied and said "I don't know, but the law is the law and you're under arrest.
The essay received an A minus, and it was the final and only grade for the class. It was made scandalously public by a whistleblower who noted that UNC had created fake classes for its student athletes.


Most people can agree that this is wrong. Most can also say that some sort of academic standard should be imposed on student athletes, if we are to maintain the pretense of
collegiate
football. Notre Dame is the place that most quickly comes to mind when such arguments are made. A strong Notre Dame team means a strong year in college football. If you care to see college football preserved as it currently stands, in all its tradition and its history of the student athlete, an entirely different entity than any professional sport, you care to see Notre Dame succeed. Notre Dame's success proves, in effect, that the current college football model is effective. Without getting into the debate about payment or no payment (I'll do so at a later date) if you love college football then please, acknowledge some gratitude (however grudging) to the Fighting Irish for doing it right.
I rest my case, and Michigan sucks.