Unless you like Army-Air Force (and trust me, you don't) this past week was intensely boring, and this coming from a dedicated college football fan. There were two games of big ranked opponents, but as it turned out neither one was very close; OSU beat Texas Tech big, and the 'Noles dropped 41 on an angry Miami team. Does Jameis Winston now deserve the 1 spot? That remains to be seen, but personally I think he'll lose it after Mariota's humongous day against Stanford this coming Thursday night. So remember, these are subject to change. I think the Duck will win the Heisman race. Plus, I like saying that. The Duck for Heisman! Just a thought, but for a team that's all about swagger, sick uniforms, recruits, and being the coolest team on the field, a duck is kinda a lame mascot. You have to embrace it, I guess.
1)
Jameis Winston
created quite the conundrum for those of us trying to put together a Heisman watch list. On an off week for frontrunner Marcus Mariota, Winston threw for 325 yards (good) but also 2 picks (bad) and only 1 touchdown (also bad). However his squad came up with a statement win, and so he's batting leadoff this week. I had to give it to him. Again, I believe that a team's success is essential in determining the value of a quarterback candidate. Not to mention he has now broken the 2500 yards passing mark, in 8 games, as a freshman. The one misgiving I have about Winston up here (it's getting pretty lonely) is his 6 picks on the season. This doesn't sound like a problem, until you realize...
Mariota has thrown for 20 touchdowns in 8 games this season
2)
Marcus Mariota
has 0. That's right, he hasn't thrown an interception yet this season. That, along with his 29 total touchdowns, put him in a prime position to seize the top spot next week. Life must be pretty good for the Ducks. They are looking forward to a thrashing of another wanna be PAC 12 champ this week in the Cardinal, and they are set on cruising to an undefeated season. I'm a little too confident they'll win, but see my next article for predictions in that and other games this upcoming week. Meanwhile Mariota can look forward to his Heisman moment, feasting on the Stanford secondary. If, of course, his offensive line can keep him off his back, because a very scary Stanford front 7 needs to be contained if Mariota wants to win big, on the field and in my rankings.
3)
Bryce Petty
is also coming off a bye (this week really, really sucked) but other 2nd tier candidates had byes as well, and so here he is. A schedule of pathetic caliber cannot negate entirely what the junior QB has done down in Waco this season. His Bear squad are averaging 63.9 points a game, and in 7 games so far he has passed for 2453 yards. Thank God he has 3 ranked opponents in the next three weeks. Baylor vs Oklahoma, also on Thursday night, will be a great game during Oregon-Stanford commercials, but again see the next article folks. Petty is about to force himself into the elite conversation or entirely eliminate himself from it, but we'll see if his ridiculous numbers translate against an actual football team.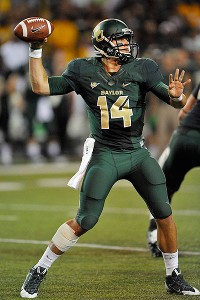 4)
AJ McCarron
is the lucky candidate this week, as he moves up after a bye, but more and more people are talking about him simply because Alabama has looked so, so good. We also can't forget that for the most part, an SEC schedule is really tough on a quarterback. That being said, I will never subscribe to the "an average quarterback in the SEC would dominate in any other conference" school of thought. I disagree with this because, although the SEC is the best conference in college football, the PAC 12 and Big 12 can now kinda contest that, and although McCarron has had some nasty defenses to play this year, he has also had the opportunity to feast on the likes of Colorado St, Georgia St, and Kentucky. So strength of schedule balances out in the end, and McCarron does not deserve the Heisman this year, yet. Sorry, college football trend setters.
5)
Johnny Manziel
wins the award for strangest 57 point performance by a quarterback this week. Obviously he could relax a little, but his seasonal numbers may have taken a hit as he passed for only 273 yards against UTEP. In less than 3 quarters however, he scored 6 touchdowns. Go figure. Manziel remains out of the true contending conversation, and barring huge conference performances against LSU and Missouri, he doesn't have the numbers or the record to repeat the feat this year. He still remains behind Bryce Petty at least, if Mariota and Winston ever stop being awesome. This is unfair, as he has had some great moments and some great games, but still 2 losses condemn him. Manziel's defense is floating belly-up at this point, and seems to have given up on the whole "don't let them score" philosophy against any ranked opponent. It is bad in College Station, but Manziel keeps me watching Aggie games when I can.