1. Atlanta Falcons (3-0): The offense under quarterback Matt Ryan has been thriving in Atlanta, ranking first in touchdowns passing touchdowns (8) and third in points (31.3). Their first three games have proved they can handle a difficult schedule, and the Falcons have shown no signs of slowing down.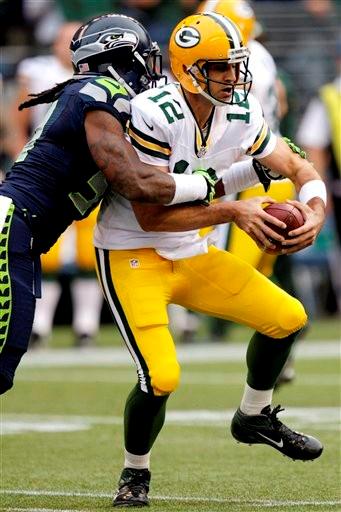 Aaron Rodgers
2. Houston Texans (3-0): The Houston Texans have all but clinched the AFC West at 3-0, with an absurdly talented defense leading the way. Even the offense is doing well in the broad scheme of things, especially with one of the best running backs in the league in Arian Foster.
3. San Francisco 49ers (2-1): A loss to Minnesota in Week 3 shocked the league, but San Francisco has already proven they can overtake talented teams. A deconstruction of the Packers defense in Week 1 was not there last Sunday, but they now have the chance to prove themselves on the road against the Jets.
4. Baltimore Ravens (2-1): A win over New England in Week 3 overshadowed their loss to Philadelphia two weeks prior. Ray Rice needs to stay healthy, otherwise the game plan would put too much pressure on Flacco. However, the passing game has taken major stride since 2011, and hopefully they can refine it by the end of October.
5. New England Patriots (1-2): For the first time since 2003, the Patriots have found themselves with a 1-2 record, with a not-so-easy game against Buffalo in Week 4. Tom Brady is not necessarily playing like he did in 2011, but he remains an elite quarterback in terms of leadership. Patriots fans should have nothing to worry about, as it is a given that New England reaches the playoffs once again.
6. Arizona Cardinals (3-0): Personally, I do not believe the Arizona Cardinals deserve to be in the top 10, and that they will fade out of the picture by the time December rolls around. However, I did say the same thing abut San Francisco last year, and as we know, my prediction turned out to be false. If the Cardinals deserve to be 3-0, they shouldn't have any problem against Miami this upcoming Sunday.
7. Philadelphia Eagles (2-1): A dramatic increase of turnovers is the main contributing factor of last weekends loss to Arizona. Michael Vick has not yet proved he is consistent enough to lead this team into the playoffs. Once he finds his groove, however, Philadelphia has a legitimate shot at winning the competitive NFC North.
8. Green Bay Packers (1-2): Who would have thought the Green Bay Packers would start off the 2012 regular season below .500 by Week 4. Similar to New England, I believe the Packers have to look forward to an easy stretch of games, and from there they might be able to gain some momentum. Also, Aaron Rodgers is not playing like we, the fans, were expecting from him. As soon as he returns to form, Green Bay will find themselves atop the NFC.
9. New York Giants (2-1): The reigning champs were not able to begin Week 1 the way they would have liked, but since their loss to Dallas, the team has been clicking on all cylinders. Their demolition of both the Panthers and the Bucs (more so Carolina) proved they are ready to defend their title.
10 Seattle Seahawks (2-1): Seattle's past two wins this season have come against two highly talented teams, and in both instances the defense was the difference maker. Their eight sacks in the first half against Green Bay really set the tone, and it will be hard for any quarterback, no matter what skill level, to dominate when he spends most of the time on the ground.