With the AP top 25 just released, it appears that season is open on every possible college football analysis. With that in mind, I am inclined to present my Heisman watch list for the 2014 college football season. There are no real surprises on this list, but keep in mind that for two years running, the Heisman winner has been a freshman, so I give somewhere around a 60-40 chance that I have here given the winner.
Marcus Mariota: QB, Oregon
Mariota was the Heisman frontrunner for most of 2013 before fading down the stretch, suggesting he definitely has the potential to win the award. The athletic junior passed for over 3,600 yards last year and threw 31 touchdowns. Although he has to work on his consistency as a passer (3 games last season completing under 50% of his passes), he makes up for it with almost one rushing touchdown per game. The high powered spread offense around Mariota is of course enormously talented, and tailored almost perfectly to his skill set. Mariota will post Heisman numbers this season, but his campaign will hinge, as per usual, on big wins and big moments. He probably won't be able to win the Heisman if he loses a game, except a BCS playoff game.
Jameis Winston: QB, Florida State
"We strong:" They certainly are this year
I don't think he'll repeat, but he'll come close. People tend now to forget just how exciting Winston was for all of last season, from the first game. With over 4,000 passing yards in a season and a national championship, he's definitely not the Messiah, but he can play football really well. He set freshman season records for the NCAA in passing yards and touchdowns (with 40, also an ACC single season record.) Winston will have great stats on a great team, behind what is probably the best offensive line in the country. In short, I don't have him first on this list simply because it would be a statistical anomaly.
Bryce Petty: QB, Baylor
Last year's first time starter dropped a casual 4,200 passing yards with 4 interceptions. Not a typo there. At the helm of a shiny and outrageous Baylor offense, which averaged 52.4 points per game, he went to a BCS bowl game and suffered a disappointing loss. Unfortunately, Petty's competition probably won't prove stiff enough to merit a Heisman award, but at one point his stats may speak simply for themselves. In a new stadium, with an upcoming team, Petty is definitely a player to watch this year.
TJ Yeldon: RB, Alabama
Yeldon isn't found close to this high on most lists, but most arguments against him hinge around one point: He has many talented backs behind him, and if his fumbling issues rear their ugly head early in the season, he may not get enough carries to fuel a Heisman campaign. This isn't really a legitimate argument, as that can be said about many players, regardless of depth chart. I hereby concede that yes, if Yeldon fumbles the ball a lot, he won't win a Heisman. That isn't rocket science, nor is it exclusive to the running back from Alabama. He is also vying for a national championship, which means a lot when considering this award. Ultimately, he will prove to be an offensive focal point for possibly the best team in the country, which screams Heisman candidate.
Count on seeing a lot of that this year.
Brett Hundley: QB, UCLA
He moves, he passed for over 3,000 yards, he leads his team well, (a team which may be contending for the first time ever) and he isn't yet a finished product. He also has the strength of schedule to present the potential Heisman moment, notably against Oregon in week seven. All this means I'd be foolish not to put him on my list. While the hype was a little overdone last year, it wasn't that far off the mark. Definitely a player you'll hear a lot about this season, and in a great conference he should have his share of the limelight.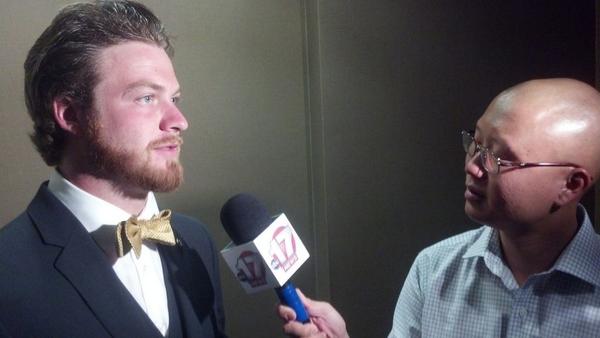 Dashing, there's no other word for it.
My dark horse candidate has to be Maty Mauk, Missouri's quarterback for the second half of last season. Missouri was predicted to finish last in the SEC east at the beginning of last season, and instead behind Mauk they maintained a top 10 national ranking for several weeks, eventually reaching #5, and played in the SEC championship game after an 11-1 regular season. There they lost 59-42, but posting 42 points against Auburn's defense is a win when we're talking about Heisman potential. Although he isn't a topic of hot discussion, keep an eye on Mauk this season, as he finished up last season with an impressive win over Oklahoma State in the Cotton Bowl.
Notable omissions:
Todd Gurley, RB, Georgia
"He's athletic, and they lost Aaron Murray so he'll get tons of carries." Both of these are true, but this is a distinctly lame argument. He was also injured last year, which allows people to point to his decent numbers and say they suggest greatness. He'll play well, but he won't win, or stay in the conversation late.
Braxton Miller: QB, Ohio State
Again, injuries shouldn't insert players into this conversation. He hurt his knee and as a result missed 3 games, but 2,094 passing yards, even over that a shorter interval, does not suggest a Heisman winner. Of course he runs well, and plays for a good team, but the prediction I have seen of 2,500 passing yards, 1,000 rushing yards and 40 combined TD's lies entirely outside the realm of likelihood, in my opinion. However that would probably win the Heisman this year.
Mike Davis: RB, South Carolina
Another great player who won't win a Heisman. Steve Spurrier will rely on him heavily this season, but he's coming off an injury last year, and didn't post spectacular numbers. He's definitely explosive, but we have to be wary of pointing to on field flashiness as a predictor of a Heisman award. He needs great numbers, and probably won't get them. I will say that of these three, I can most easily see Davis staying in the conversation late.