This was the funnest weekend college football has seen in my memory. With five teams in the top 8 dropping games, it was also the most upset filled week in the history of the AP poll. Now that the dust has settled, we are left with a slim group of unbeatens left standing, and plenty of amazing games and moments to charge into the next half of the season. I've provided my personal three takeaways from this weekend, in vaguely ranked importance.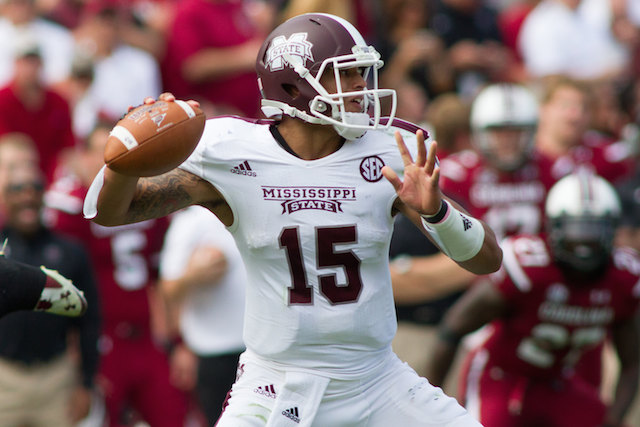 Dak Prescott had a day for himself, with 5 TD's in a
rout of the Aggies.
Most importantly, this will not be a season where being undefeated is a necessary qualification for playoff football. Thank God in his heaven. Perhaps one of the happier states outside of
Mississippi
on Saturday night was actually
Oregon
. After a disappointing egg laying by the Ducks (sorry) against an unranked Arizona team (again?!) Mariota and co. must have counted themselves out for yet another season. Another season where they don't run the table, another season where they don't contend for a national championship, another season… oh wait. With
Oregon
,
Alabama
,
Oklahoma
, and
Texas
A&M
all in the playoff conversation before this weekend, can we really cross them all off the list after losses? We can't, is the answer. Thankfully then, this year we'll have some outstanding one loss teams. I truly believe that those four top 6 teams that lost this weekend should remain in the playoff conversation as the season progresses, which is good for college football. So many strong teams dropped good games that
we can eliminate exactly no one from the conversation
, especially by the end of the season.
We're still talking about the Ducks, who enjoyed watching
Saturday: The Pac 12's last hope.
Which brings me to my next important point; This weekend, while providing some fun highlight reel moments, (and some ridiculous stats, including a
D1 game passing record
from Washington St's Connor Halliday with
734 yards
through the air… in a loss) also set up some humongous games in the upcoming weeks. Of particular note are
Auburn at Miss St.
(next weekend), then Auburn at Ole Miss,
Notre Dame at Florida St,
another matchup which will cull the ranks of the unvanquished. At this point, there won't be all too many. Baylor at Oklahoma on November 8th will decide the Big 12, and as of yesterday Baylor is in the fourth playoff spot. But again, what's so great about this weekend is that so many good teams lost that none of them are out of the conversation. These are some great match ups.
How many Division one records are set in a loss?
and Auburn vs Texas A&M. A season ending Auburn at Alabama Iron Bowl could well be for all the marbles, depending on how this season unfolds. Here's hoping... After those first two games for Auburn, there will by necessity only be one undefeated team left of those three SEC teams, unless Auburn loses both games, in which case we have an amazing rivalry game on our hands. The perennial Miss St. Ole Miss at the end of the season would then become without a doubt the most important game in the history of the rivalry. The two teams from Mississippi have never been ranked in the top ten simultaneously, which is going to change in this week's AP poll. A non SEC game to keep on the radar will be
None of which are in the
Pac 12
. Oh, Pac 12. My once and future king, my favorite conference, my personal preseason pick, how you have let me down. You string me along, telling me this will be the season, a strong conference full of players who can read! I should have known then as I know now, it's simply too good to be true. I did in fact rank the Pac 12 as the strongest conference in college football before this season began, and boy do I look stupid now. In my defense, the computers agreed with me, and the SEC had lost just about every good quarterback it had (Prescott, you've taught me better by now, not to mention a little
Nick Marshall laying a whupping on LSU
). But the Pac 12 just isn't the conference it wants to be.
Oregon
can score and always has been able to, but they seem to be more effective at dropping 70 on FCS teams than winning important conference games. They talk a lot about making the next step, about contending for a national title, but they have to deal with upstart Wildcats run amok in their own conference first.
Stanford
is always a fundamentally coached football team with a top 5 defense, but quarterback play holds the Cardinal back, until Kevin Hogan learns to move his eyes a little for the love of God. (see below, they dropped a great game in Southbend, again.) 8th ranked
UCLA
lost an ugly game to the Utah Utes, and there's yet another Pac 12 team that talks a big national scene game but loses bad match ups. All these up and coming teams made me pick the Pac 12. I drank the koolaid. I figured this would be the year at least one of those three elite teams delivered on their promises. I can still remember UCLA coach Jim Mora, after good losses against great teams last year, angry as anything and going on about "there has to be a point where we start winning these big games, I don't care about looking good in a loss." Well, the Bruins haven't reached that point. Oh, and not to forget the fourth Pac 12 team we care about, the 16th
Trojans
coming in hot with a loss to Arizona State on a legendary Hail Mary. So not this year, for the conference. I was rooting for the West, I really, really was, but again they have disappointed their fans, which includes me. All told, top 25 Pac 12 teams went 0-4 this weekend, and that includes
two top ten teams losing to unranked opponents
. Not a good weekend, and because of it the conference probably won't send a team to the playoff.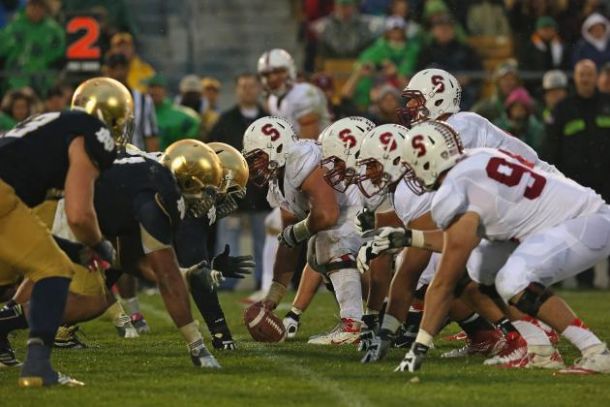 Destined to be a physical football game

(That was a great game against the Irish, by the way. In 35 degrees and pouring rain, it felt a lot like the battle of Helm's Deep, and Golson won it on 4th and 11 with under a minute remaining with a perfect touchdown pass to a wide open Ben Koyack, 17-14. Wet conditions (neither team ever really passed effectively) and great defense were the story in a physical and important football game, that has now gone a little overlooked in such a tumultuous weekend.)
So Mississippi can celebrate for a week, and ditto for Auburn fans, all of whom are sitting pretty at the top of the Sec West. But that conference will look a whole lot different in three weeks, with only one unbeaten remaining in all likelihood. The losers this week shouldn't be too bummed either. In short, the only fans who should bail on this season are fans of Brady Hoke, who's so gone it's not even funny. Michigan dropped to 2-4 with a truly atrocious showing against Rutgers, 24-26. Michigan sucks. But beyond that, there's a lot of great things happening in this sport. Here's to an awesome weekend in college football, and many more to come. Cheers.