Battle of the athletes at QB
The SEC title game, for the past 6 or 7 years, has sent its winner to the national title game, where said SEC champion always wins big. But this year, incredibly as it seems, that probably will not happen. In all likelihood the SEC's run of 7 straight national champions is officially over. I don't want to bring up that whole issue right now, but the bottom line is that this game, whatever the implications of victory might be, will be a good matchup. If you had said that the SEC title game would involve these two teams (neither of which received a single vote in the preseason AP top 25, much less was ranked) I would have pointed you kindly to the nearest mental hospital. Missouri and Auburn combined for just 2 conference wins last season. But here we are, and undeniably the Tigers (both of them) deserve to be here. They are not the most talented teams in the SEC, but they have won the games that count and have played great football all year. To be honest, I place priority on watching Ohio State vs. MSU, the Big 10 title game this weekend, if only because better talent will be on display. That said, this will be fun to watch.
The Tigers… oh wait… Mizzou has consistently improved this year. Initially picked 6th in the East (so, last) after a dismal 5-7 record in 2012, the Tigers have come back from behind to win in 6 games this season, including 3 games in which they have won in the last 30 seconds of play. It's just been that type of season. Their one loss this year came in double overtime against South Carolina, without senior stud quarterback James Franklin. Redshirt freshman Maty Mauk however quickly stepped in when he went down, showing remarkable poise in several games throughout the season. Week by week they steadily climbed in the rankings, as Mauk turned in plenty of clutch performances, but the onus is now on Franklin again to get the job done. After he impressively outplayed Johnny Manziel and his Aggies to punch the ticket to the SEC title game (a 28-21 victory last week), Franklin looks to do the same against Auburn on Saturday. He does have a 1,000 yd rushing season under his belt, so we know he is dual threat, but his main potential is through the air: he has almost 2,000 passing yards this season in just 8 games.
James Franklin needs to step up big on Saturday
Meanwhile, Auburn is obviously coming off the biggest win in the past 5 or so years of regular season college football. That would seem like hyperbole, until you remember that the Iron bowl is one of the top 5 rivalries in the sport, and that Alabama hadn't previously lost in almost 3
years.
If senior cornerback leader (and… field goal returner?) Chris Davis has caught his breath yet, the defense should be raring to go against the Tigers for the title on Saturday. They certainly proved they could make the big stops when they needed to against the Crimson Tide, and I see that carrying over into Saturday. If you can stop TJ Yeldon when it counts, then you can play defense against anyone. Coach Gus Malzahn deserves a crazy amount of credit here. His War Eagles (a much better mascot, by the way, Tigers is overused and sounds like the local high school squad) failed to win an SEC game last year. Not one, en route to a 2-14 season. He went from
that
to undeniable success all season, capped by a huge win in a huge rivalry game, one of the biggest regular season wins in the program's rich history. A cool note: Auburn now possesses the Iron bowl game football, at an estimated value of $50,000 and quickly climbing.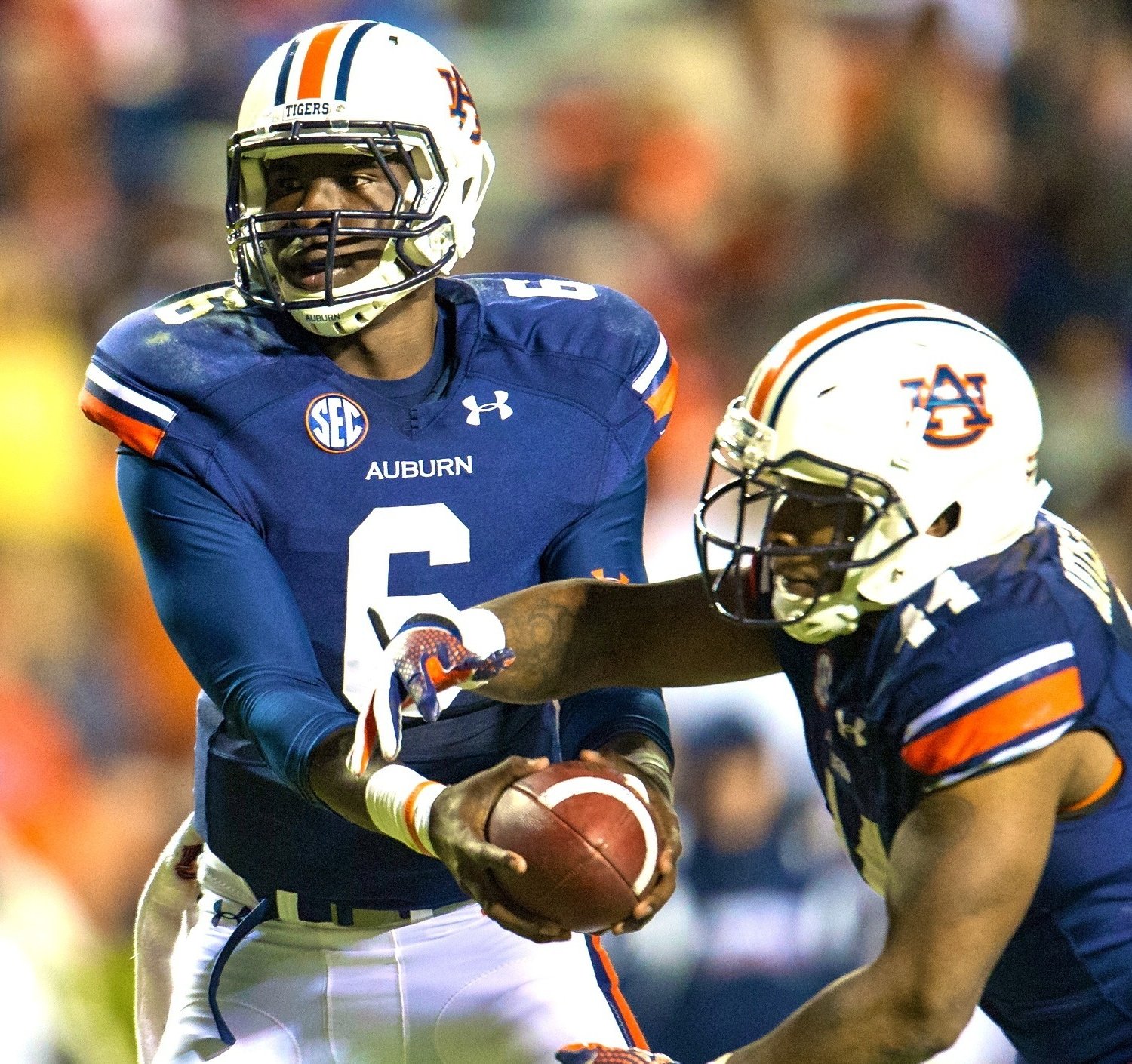 Works 60% of the time, all the time.
So now, what do I see happening here? Last week's Iron bowl was not only incredibly entertaining, but we also learned something about Auburn's offense. That "triple option" run is really, really effective. It is in no way like an academy style triple option but rather quarterback Nick Marshall can either handoff to his stud running back Tre Mason, keep it and run, or keep it and throw a little shovel or screen pass. Auburn runs this a lot, approaching every play at times, but it didn't stop working last Saturday even against the Nick Saban coached squad. Normally Saban would have adjusted impressively, but here he was unable to and Auburn rode that set of plays to victory. You may have noticed that on about 50% of the plays they ran, the clearly faked out the cameraman. He would follow the wrong man. This was not just funny, it showed how effective this style offense can be. Maybe Auburn with Nick Marshall at quarterback isn't an incredible passing team, but they get the job done. They just proved that they can beat the best team in the country using this system, so go with what works I guess. I don't see Missouri doing what Alabama couldn't, so to keep it simple I go
Auburn 31-Missouri 20
.