The witching hour approaches. No amount of dramatic ESPN commercials, (you know the type) blindingly complex photo collages, or sports center hype can quite prepare me for this one, this pinnacle of collegiate competition, this sacred night. As some networks would have it, life will pause for four hours on Monday night, and it may not resume after that. My apologies, but I felt it was better to clear out the poetry before we go any further. One fell swoop, that type of thing.
So this will be a good game of course, a matchup we all want to watch. Florida State was flirting with a ticket here all season long, while Auburn on the other hand was certainly a late comer to the party. But both teams deserve to be here, Auburn with a timeless late victory over the best team in the country (and a huge title game loss from the Buckeyes) and the Seminoles after having played stellar football for four months. Although this is not the end of the championship game as we know it, it is true that we will never again see a game like this, where both teams are elected in and have not won playoff games to get here. That's a good thing, I think most everyone is happy to wave goodbye to a flawed BCS system, but still, the nostalgia deserves mention I should think. The spread here is (as of Sunday afternoon) 8.5 points against Auburn, fairly reasonable I find.
A lot of pride on display
Not quite as cool, and War Eagle is vastly preferable.
All this rolls into what should be a great game. The Seminoles think, perhaps, that they should win. The Tigers know, perhaps, that they are outmatched, but after beating the Tide, also know that they can beat the best team in the country. Undoubtedly, Alabama was a better team than the Tigers (let's shelve, for the moment, their recent upsetting loss to Oklahoma, though props to the Sooners) but Auburn won. It is that simple, and I can't help thinking, can they do that again?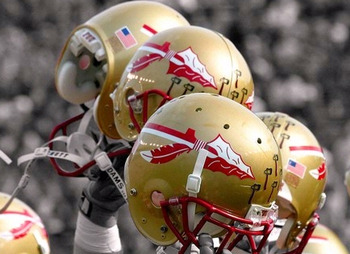 A formidable unit
So, to business. (I write that briskly, rolling up the sleeves). Some interesting pro-Florida numbers and tidbits. Heisman winners usually win on this stage. The last two have, (Mark Ingram for Alabama and Cam Newton for, all together now, the Tigers in 2010) so Famous Jameis is looking to go three for three. Some question Auburn's defense, particularly against the pass, and so it begs the question. Will they hold up if Winston brings his best passing game? That passing game, the likes of which we all saw on display against Clemson or Miami, two humongous statement wins this year for the freshman and his team, is tough to beat. The Seminoles can also boast the best scoring defense in the country this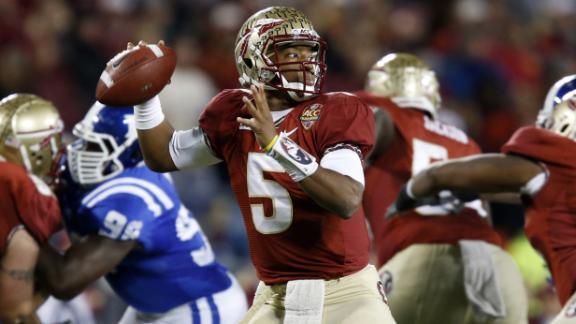 He shows up when it counts, every time.
year, allowing a paltry 10.7 points per game all season. That's an important stat, maybe one of the most important ones. Auburn's passing game lacks magic, so without really having to respect him through the air, the Seminole defense is probably pretty excited to get to work on Nick Marshall and his triple option. Remember, such Seminole stats have come against a decent schedule all year long. Of course, most opponents are cupcakes, but the same can be said for any powerhouse in the country. This season, this defense allowed 14 points against a then 7 Miami and before that, 14 against a then third ranked offensive power Clemson. Those are big games and big showings from the defensive unit of Florida State. Finally, Florida State's weakest moment this season has been a 48-34 victory over Boston College. That's the closest margin of victory by far this year for this team. The better the team, the better the Seminoles have looked.
Auburn, I regret to say, wilts a little when held up to the same scrutiny. Their defense by conventional standards has been mediocre. Though they have found the big stops all year long, they rank 95th nationally in yards per play allowed (5.96), by far the worst of any team ever to reach the BCS National Championship Game. They also rank last in passing defense in the SEC. Of course, one look at the quarterbacks they have faced this year might offer some solace to Auburn fans, as this year has seen Johnny Manziel, Zach Mettenberger, AJ McCarron, and Aaron Murray, 4 SEC studs who make most defenses look terrible. Additionally Auburn has allowed a much more comforting, respectable 24 points per game this season, so perhaps all the big plays they let up don't always translate into big points. Regardless, this is at best a solid defense, good in the red zone and bad out of it. Realistically, that won't be enough to stop Jameis Winston and his offensive powerhouse. So if Auburn is to win, then, it will be on the backs of two young men, Nick Marshall and Tre Mason.
He'll have to do that a lot on Monday night.
Mason was a dark horse for the Heisman this year, after several huge games including a SEC title game performance we will probably never see again. If you missed it, he ran for over 300 yards on 46 carries and four touchdowns en route to a 59-42 pounding over Missouri. It is entirely possible that that performance (the best ever for a running back by far in the SEC title game) holds the top spot in the record books for a very long time. He bested the old mark for yards on the ground in this game by over 100 yards. Meanwhile Nick Marshall has had a long road to this game, including some switching of schools and a junior college stint, even, after leaving Georgia. Everyone may love the guy, as well they should (I've heard much about his soft spoken Southern accent, his humble demeanor, etc etc) but I don't see him scoring 40, and that may be what it takes.