If the Pac 12 isn't the best conference in the country, the SEC is without a doubt. Certainly in the last ten years there can be no debate as to the dominance of these schools, with a run of seven straight national championships. This year, I rank the SEC just below the PAC 12, owing to their loss of virtually every talented quarterback in the conference last year. That and a disappointing bowl showing, from the national championship loss to Alabama's (of all teams!) loss to Oklahoma. But of course there will still be anywhere from 2-5 teams from the SEC in the AP top 10 poll this season, and coming off a well publicized SEC media day (or week) the timing is perfect to look at some issues of note from the conference this season. Mind you, if you missed the coverage you didn't miss much (at one point, the merits of different tie knots were discussed-let's call it an off year.) But regardless, these are just several things to watch for this year coming out of the conference.
That didn't take long
Auburn's quarterback play: Nick Marshall's name was mentioned a lot during ESPN's coverage of the SEC media day, which is interesting because he did not speak. After an incident involving marijuana possession, Marshall was not allowed to appear before the press by Tiger coach Gus Malzahn. Apparently, Marshall will face "consequences" following last week's pot citation. Malzahn declined to specify whether a first game suspension would be in the works, which incidentally is a good matchup
against Arkansas. The trendy option of late has been the half game suspension, and realistically that will be the end result. However, we have to remember we are talking about the starting quarterback of the supposedly second best team in the country last year, so by virtue of that fact alone this is something to note. Moreover, Marshall may well be the best quarterback in his conference this year, and is arguably the conference's most prominent player. It remains to be seen if he'll meet expectations.
TJ Yeldon's Heisman bid: This could well be the last season we enjoy the money sign double throat slash, but the good news is we'll be seeing it a lot. Yeldon's numbers last year: 1,235 yards rushing in over 200 attempts, with an average yards per carry of 6.0 and 14 touchdowns. He will flirt with the Heisman from the beginning this year, and expect at least one Tre Mason like game from him (the Auburn running back who had a 300 yard 4 touchdown game in the SEC championship.) Yeldon will be fun to watch this year, as a horse for yet another Alabama team with national title aspirations. Also keep an eye on Amari Cooper.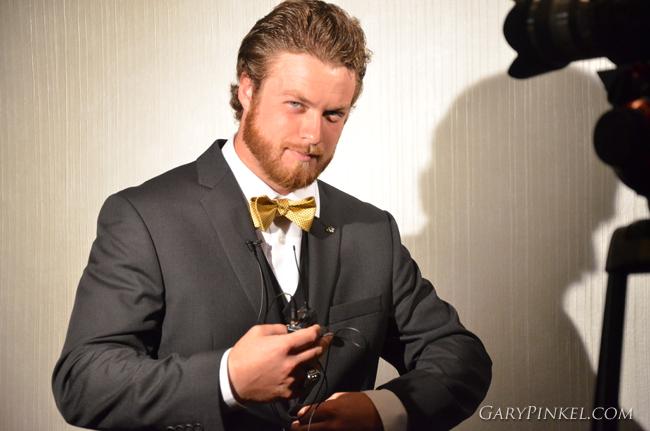 Dashing
Maty Mauk and Missouri's follow up: A conference that really lacks star power this year might find it in this bow tie sporting 195 lb sophomore, who stepped up brilliantly for Missouri after their starter James
Franklin went down halfway through the season. Mauk helped the Tigers to a spectacular 12-2 campaign, finishing the season ranked fifth in the country. Not many predicted this, but this year the Tigers will get a little more respect as they look to continue trending upwards. Look for Mauk to surprise plenty of defenses with his mobility, and without a really great quarterback in the conference he could perhaps lead Missouri to a conference championship. He caught everyone's attention with some self made comparisons to Johnny Manziel, so it'll be interesting to see if he can back it up.
LSU's offense will take a big step back this season. Led by Cam Cameron, they bid goodbye to Zach Mettenberger but can perhaps say hello to the run first offense so typical of an LSU team. Their star quarterback is not the only loss, as besides the 3,000 yard passer they lost 1,000 yards rushing in RB Jeremy Hill and 1,000 yards receiving each from Jarvis Landry and Odell Beckham Jr. Their best returning receiver caught a grand total of seven passes last year. Say what you will about a strong freshman class, (highly praised Leonard Fournette was the best recruit at running back in the nation) they will score fewer points than last year's 35.8 per game, by a good margin.
The Iron Bowl will be a little less tame than usual, after last years astonishing Auburn victory-if you watch one college football game this year, make it this one, on November 29th in Tuscaloosa. Other games of note, in no particular order:
November 8th, Alabama at LSU (This game always seems to mean a lot, and look for LSU to improve upon last year's 38-17 defeat.)
September 13th, Georgia at South Carolina (Steve Spurrier's pre-season noise has been spot on)
November 29th, South Carolina at Clemson (The gamecocks have won five in a row in this one)
November 15th, Missouri at Texas A&M (I pick the Tigers, by a wide margin)
Heisman watch list: Maty Mauk, QB from Missouri, Alex Collins, RB from Arkansas, Mike Davis, RB from South Carolina, TJ Yeldon, RB from Alabama
Sleeper pick: Ole Miss Rebels
Conference champion: Alabama
In case you forgot..
My favorite part would be at the beginning, where he goes "And I guess if he misses it, Chris Davis can try to run it back…" Why yes, yes he can.